HP Series – Industrial Peristaltic Pumps
The advantages of the operating principle of the Aquaplus HP Series peristaltic pumps lie in their simplicity.
A tubular element of the precise dimensions, made of various types of elastomer or thermoplastic is house in the pump body.
When this tubular element in compressed by the rotary action of the rotor and its corresponding rollers or shoes, it recovers its initial shape creating a vacuum which draws the fluid.
The fluid flows into the cavity formed by the rollers that press the tube and is gently pushed to the outlet by the following roller.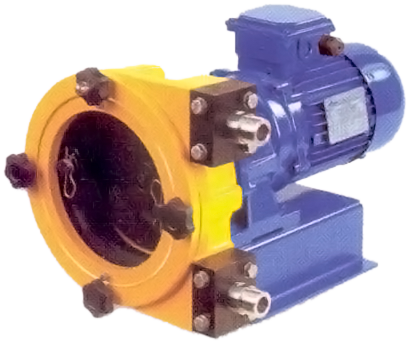 Features
Applications
Curves
Tech Specs
Downloads
Suction lift to 9 metres
Can run dry without damage
Seal-less
Reversible rotation
Resistant to abrasion
Dosing application 1%
Easy and economical maintenance
Resistant to corrosion
Silent
Easy to clean
Sludge, lime slurry, mortar, filter press feed, clay slurry, carbonates, slurries, kaolin
Paints, glues, inks, latex, pigments, oils, detergents, acids, peroxides
Milk products, wines, sauces, jams, liquid eggs, mayonnaise meat products, fruit juices
AMP Range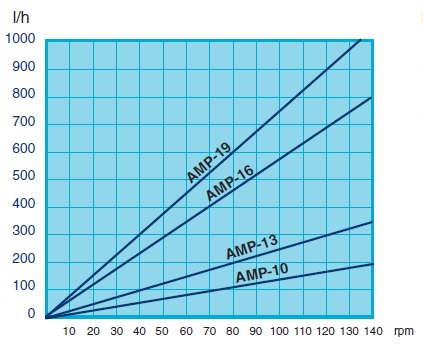 FMP Range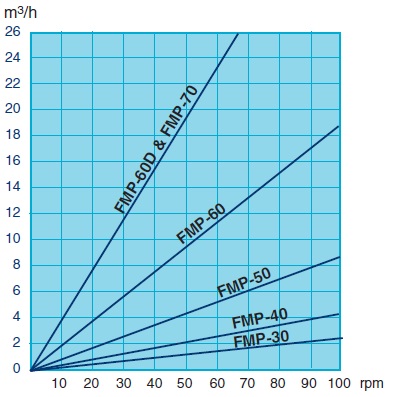 RBT Range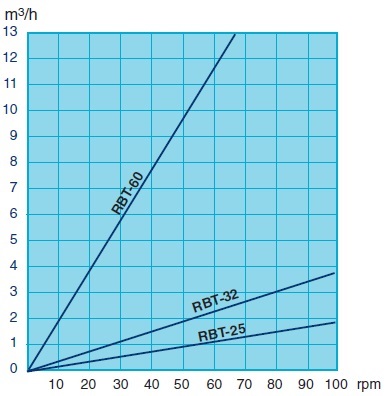 | | | | | | | |
| --- | --- | --- | --- | --- | --- | --- |
| Part Number | Capacity (l/rev) | Connections | Max. Pressure (bar) | Pressing Tube System | Available Tubes in Rubber | Available Tubes In Thermoplastic |
| AMP-10 | 0,023 | 3/8″ | 8 | Rollers | NR, NBR, EPDM, NR-A, NBR-A | NEOPRENE PHARMED |
| AMP-13 | 0,038 | 3/8″ | 8 | Rollers | NR, NBR, EPDM, NR-A, NBR-A | NEOPRENE PHARMED, TYGON |
| AMP-16 | 0,095 | 3/4″ | 8 | Rollers | NR, NBR, EPDM, NR-A, NBR-A | NEOPRENE TYGON |
| AMP-19 | 0,123 | 1″ | 2 | Rollers | | NEOPRENE TYGON |
| FMP-30 | 0,431 | 1¼" | 8 | Rollers | NR, NBR, EPDM, NR-A, NBR-A | |
| FMP-40 | 0,75 | 1½" | 8 | Rollers | NR, NBR, EPDM, NR-A, NBR-A | |
| FMP-50 | 1,46 | DN-40 | 8 | Rollers | NR, NBR, EPDM, NR-A, NBR-A | |
| FMP-60 | 3,16 | DN-50 | 8 | Rollers | NR, NBR, EPDM, NR-A, NBR-A | |
| FMP-60D | 6,33 | DN-65 | 8 | Rollers | NR, NBR, EPDM, NR-A, NBR-A | |
| FMP-70 | 6,67 | DN-65 | 8 | Rollers | NR, NBR, EPDM, NR-A, NBR-A | |
| RBT-25 | 0,31 | DN-25 | 15 | Shoes | NR, NBR, EPDM, NR-A, NBR-A | |
| RBT-32 | 0,625 | DN-32 | 15 | Shoes | NR, NBR, EPDM, NR-A, NBR-A | |
| RBT-60 | 3,16 | DN-65 | 15 | Shoes | NR, NBR, EPDM, NR-A, NBR-A | |